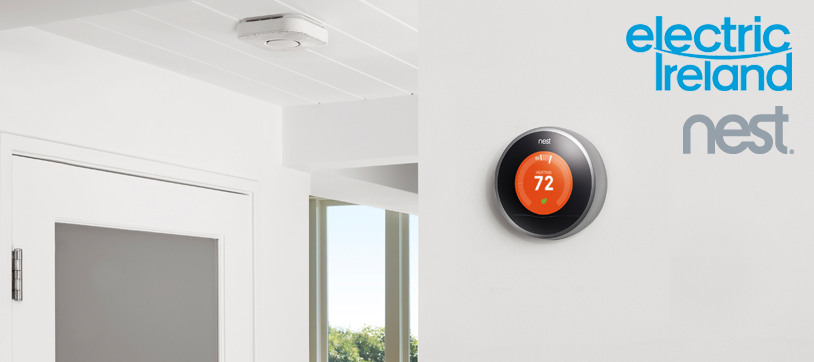 Free Nest deal for Electric Ireland customers announced at Web Summit

The Web Summit has become known for big deals and big reveals and this year is proving to be no exception.
Tony Fadell, the founder and CEO of Nest Labs, may not be a household name in Ireland yet, but that could be about to change. Taking to the Web Summit's Centre Stage today, Mr Fadell announced a huge deal with Electric Ireland to offer free Nest Learning Thermostats to Electric Ireland customers. And in case you were wondering how big that could potentially be, Electric Ireland is the country's largest energy provider with around 1.2 million customers.
Tony Fadell is no stranger to big deals either – he's the guy who sold Nest Labs to Google earlier this year for an eye-watering $3.2 billion. He was also involved in the creation of the iPod and the iPhone while an executive at Apple, so he knows his way around technology too – and of course, he's one of the Web Summit's heavy hitters this year.
So what exactly is the Nest Learning Thermostat?
 After his success at Apple, Tony Fadell took a bit of time off to fix up a new home. While doing that he said he hated every thermostat that he tried, and then hit upon the idea of a thermostat that looked good and didn't need to be programmed at all. Instead, it would learn from the person using it.
And so with the Nest Learning Thermostat, the company says you can simply turn it up and turn it down like a manual thermostat for a week or so and it will create a personalised schedule that is refined over time. It has built-in sensors too, so it knows when no one is home. This means the Nest's Auto-Away feature can automatically turn down the temperature, helping to save energy. And like other smart heating controllers, you can operate the Nest from a smartphone, tablet or computer.
How can Electric Ireland customers get a Nest Learning Thermostat?
From November 12th, new Electric Ireland customers who sign up to a two-year electricity price plan can receive the Nest Learning Thermostat at no cost – installation will be free too. Existing customers can get a Nest Thermostat and installation for €99. The Nest Learning Thermostat is valued at €375, so this deal is sure to be attractive to new and existing Electric Ireland customers alike.
The Nest itself stands out because of its sleek looks and LCD display. It's small and circular and has a dial surrounding it which is used to turn up and down the heat. It has a movement sensor too so it knows when you're home, and if you're not, it'll turn down the heat – thus saving money according to the company. It can also be scheduled and operated like a normal thermostat, and there are apps that allow it to be operated remotely.
The company's mantra is that they "take the unloved products in your home and make beautiful, thoughtful things," seems to ring true with the Nest as it certainly does look very good and by all accounts seems to do some pretty cool stuff too.
And when you think that up to half of a household's annual energy expenditure goes on heat in Ireland, a device that can help to lower the cost of heating simply – especially given the price of gas and oil – is likely to catch on fast… and all the better if it's free.
We don't have details of the Electric Ireland tariffs that will be part of the Nest deal yet, but as soon as we do we'll have them on bonkers.ie.
---