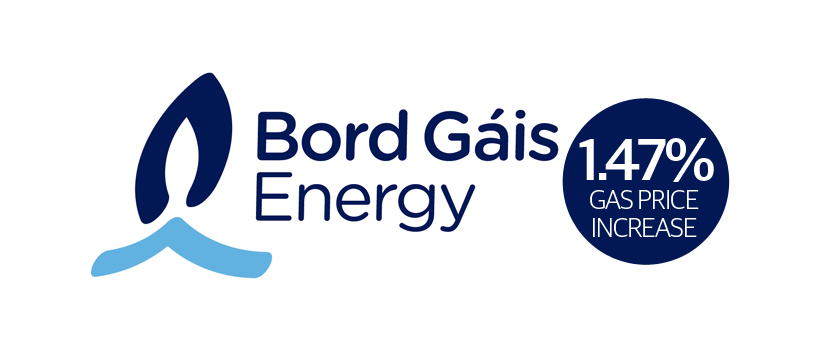 Bord Gáis Energy to increase prices by 1.47% in April
The Commission for Energy Regulation has just announced that residential gas prices will go up by 1.47% from April 14th. The price increase will apply to standing charges and unit rates and will mean that average households will need to come up with an extra €13.59 per year to heat their homes.
Although not a huge increase, it comes very soon after October's 2.04% gas price increase which added just over €18 to average bills.
Bord Gáis Energy is the only regulated gas supplier and needs to get approval from the Commission for Energy Regulation before it can increase gas prices. A Bord Gáis price increase is usually a sign that prices will go up for other suppliers too.
In a brief statement, Bord Gáis Energy Managing Director Dave Kirwan said that his company worked hard with the CER to minimise the effect of price increases on customers and that "Bord Gáis Energy recognises that price increases have an impact on customers, particularly in these difficult times."
So why are gas prices going up again?
Most gas is used between October and February, consumption in Ireland is falling, and it is lower consumption that seems to be driving this price increase.
It works like this… less gas is transported to homes and businesses, the cost of transporting that gas is spread across fewer units, and so standing charges and unit rates must go up to cover the consumption shortfall. It's a sort of Catch 22 for consumers.
The increased transportation costs and lower consumption also mean that it is very likely we'll see identical price increases from the other four major gas providers.
Bord Gáis has calculated that this lower consumption will lead to a shortfall of €3.714 million by October 2014 - which is what they applied to the regulator to recover. To cover this shortfall would actually require a price increase of 3.47%, however, the CER said they wanted to ensure that "tariff increases are kept to a minimum for consumers," so they decided against the 3.47% price increase. They did this for a number of seriously complicated reasons and one fairly simple one… Bord Gáis deregulation is just around the corner, and basically they can look after themselves once they can set their own gas prices.
As Dave Kirwan himself said today: "We expect this to be last regulated tariff adjustment of its kind by the CER. We look forward to deregulation in the residential gas market in the coming months, and to competing on a level playing field with other suppliers."
Bonkers.ie Managing Director David Kerr said: "this price increase is unexpected and is another blow to Irish consumers. It is not yet clear what effect this increase will have on electricity prices, but it is likely that we'll see increases from the other gas suppliers."
David Kerr concluded that: "the only positive to be taken is that the winter with its large gas bills is now behind us so the impact on consumer bills is not a large as it could have been. We are also looking forward to a positive impact of deregulation on BGE gas prices which is expected before the summer."
*****************
By April, gas prices will have gone up by 37% in just two and a half years. That's an increase of €266.
 Back in September 2011, an average household could expect to pay €727 per year for gas for one year. Now the same household can expect to pay €993.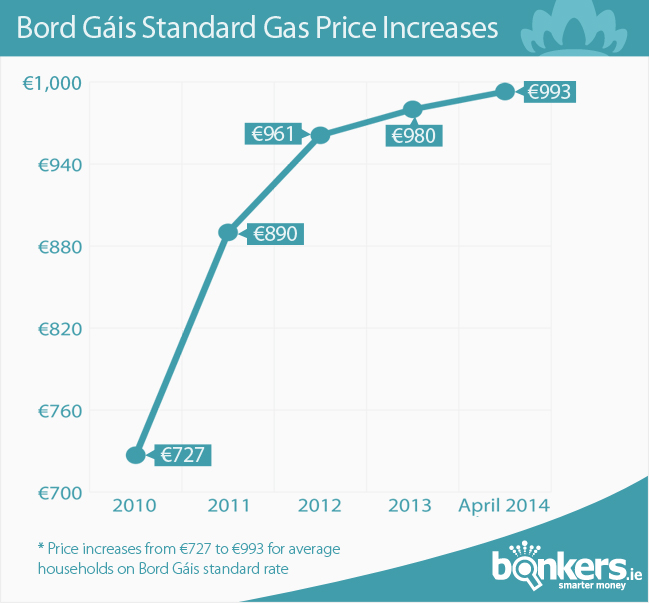 Currently an average household using 13,800 kWh of gas is spending €979.69 per year on the Bord Gais Standard rate. On April 14th, that will go up to €993.28 per year.
Currently, gas customers on the Bord Gáis Energy regulated Standard tariff pay an ex-VAT unit rate of 5.299 cent. This will likely go up to 5.377 cent on April 14th. The standing charge should go from 22.15 cent per day to 22.48 cent per day.
---