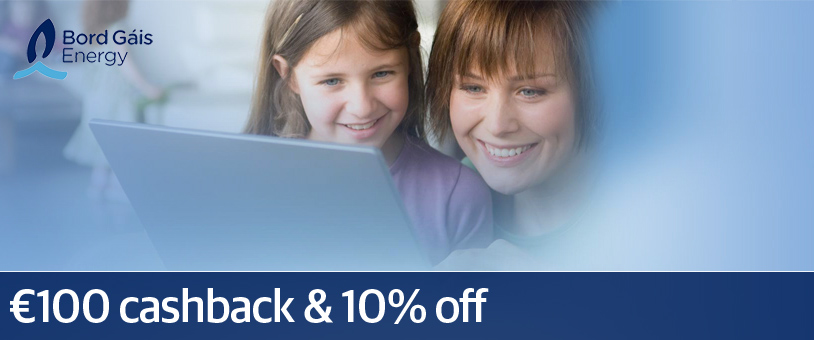 Bord Gáis Energy offers €100 cashback - whenever you want it
Bord Gáis Energy has just launched a deal offering €100 cashback, which certainly caught our attention when it was announced it today. Of course cashback offers are not new, but what stands out about Bord Gáis Energy's €100 is that it's the biggest cash signup incentive ever offered by an Irish energy supplier.
That's not the only unique feature with this deal either. Bord Gáis Energy says customers can actually choose when they want to receive their €100 cashback too.
Bord Gáis Energy's new offer works like this: if you sign up to Bord Gáis Energy's 10% electricity discount plan, or their 10% dual fuel discount plan, you're entitled to €100 cashback - and basically you can choose to receive it off any bill you want over the next twelve months.
So if things are looking tight in September, or you're maxed out after Christmas, just get in touch with Bord Gáis Energy and tell them you want your €100. Just like that they say.
Savings
Now €100 is certainly quite an incentive, but we're in the business of saving money for our customers so you'll need to know whether this plan will work for you. And the biggest part of any energy deal is the cost...
As pretty much everyone has an electricity supply, we'll take a look at the electricity first. The 10% unit rate discount with this tariff means that a year's supply of electricity will cost €1,118. That's €92 cheaper than basic Standard rates. Not bad, but not the cheapest in the marketplace. However, when you add in the €100 cashback, the annual saving goes up to €192 per year, and does make this the cheapest electricity tariff out there for an average qualifying household.*
Looking at the Bord Gáis Energy dual fuel deal, which offers a 10% electricity and 10% gas unit rate discounts, an average household will spend €2,027 per year. Again, not bad, but not the cheapest deal out there. This tariff gets much better when you add in the €100 cashback, but customers can still save more by taking their gas and electricity from separate suppliers.
Offering the cheapest tariffs in the marketplace may not have been what Bord Gáis Energy had in mind when they created this deal though. The company is now presenting itself as "the helpful energy company" and this new "whenever-you-want-it" cashback seems to follow that plan.
It is a nice idea too, and it's something truly new. Bord Gáis Energy has also said that when customers do ask for their cashback, they will get it off their monthly payment. And if their payment is less than €100, the remainder will roll over to the next month.
Level Pay
Which brings us to the requirements of this deal. Customers will need to pay by direct debit and go for paperless billing - which is normal enough. It's a "Level Pay" tariff too though, so customers must pay a fixed monthly amount by direct debit to sign up to this deal.
Level Pay works by looking at your previous year's consumption, dividing it by twelve, applying your new rates to that consumption and billing you the same amount every month. There'll be an extra bit added on to the monthly payment amount (called a tolerance) to account for cold weather or unexpected extra usage, but a lot more people are choosing these monthly payment plans over traditional billing because they like the predictability of paying the same amount every month.
€100 off customer bills
Talking about their new deal today, Nicky Doran, Head of Retail at Bord Gáis Energy said: "We are offering the control to our customers so they can choose when they want the €100 off their bill. We know there are times such as summer holidays or Christmas, when customers prefer to spend their money on other things and with this offer, the customer is in control and can nominate when they want the money off their bill."
Price cuts
Last Month Bord Gáis Energy announced that they would be cutting prices from 16 March. The company said it will cut the unit rate of gas by 3.5% and the unit rate of electricity by 2.5%. These price cuts are expected reduce the average household gas and electricity bill by €54 per year. Households with just electricity can expect to save €25.
Customers signing up to the Bord Gáis Energy 10% discount plan will also benefit from these price cuts when they take effect.
bonkers.ie says
Managing director of bonkers.ie David Ker said that: "This is the largest single fuel cashback award that we have ever seen. It also gives customers the extra flexibility of applying it to whichever bill they want. It's sure to provide energy customers with a little extra help at times when bills are high and money is tight." 
---