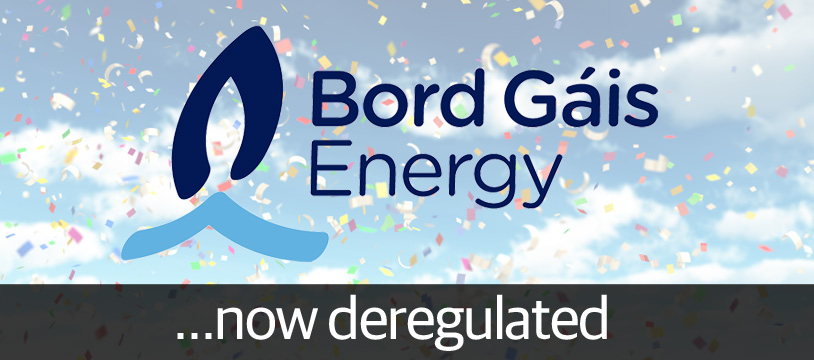 Bord Gáis Energy fully deregulated today
Today is the first day of total deregulation…
That sounds like the tag line to a summer blockbuster Armageddon type movie sequel… but we've got to do something to big-up this day – because it's a very exciting day indeed, and not just for us here at bonkers.ie.
Sure, the World Cup is on, the sun is out, and the only gas people want to think about is the stuff that comes in bottles for the barbeque. But today, the Irish energy market became fully deregulated, and that's a pretty big deal too.
Bord Gáis Energy, the only price regulated gas supplier in Ireland, has been unshackled and can, for the first time, set its own gas prices. Until now, Ireland's biggest gas supplier had to apply to the Commission for Energy Regulation whenever it wanted to increase (or even decrease) prices.
So what'll it mean for us and our families?
Well, deregulation should mean more competition which should mean better prices for those that are willing to go out and get them. If you look at it like this, Bord Gáis Energy has lost 45% of its gas customers over the last four years. In all likelihood, the company will want to see if it can get some of those customers back. And the best way to do that is price. There's precedent too…
Three years ago when the ESB (now Electric Ireland) was deregulated for electricity after losing 40% of its customers, the company slashed electricity unit prices by up to 17% for new signups. The ESB went from being the most expensive electricity supplier in the market to the cheapest overnight. And Electric Ireland has consistently offered good value tariffs since then.
 Good signs
There are some other good signs too and here's a big one - wholesale gas prices are falling. They are 30% lower than they were this time last year and in fact, they are at their lowest level in four years. This should make it easier for Bord Gáis Energy to cut prices in time for the colder months when we use most of our gas.
Then of course, there's the whole Centrica / Bord Gáis Energy deal. A couple of weeks ago, the European Commission gave Centrica the go-ahead to complete the €1.1 billion purchase of Bord Gáis Energy so that'll probably close very soon. Centrica is a huge concern that owns British Gas in the UK and knows the competition game very well. British Gas used to be the incumbent, regulated gas supplier in the UK too, and has plenty of experience in regaining and retaining customers in a fully deregulated market.
And finally, Bord Gáis Energy itself is no slouch. Remember the Big Switch? Well, it is reckoned to be Ireland's most successful ever customer acquisition campaign – by a stretch.
***************
Now, although today is the first day Bord Gáis Energy can set their own gas prices, they haven't launched any new tariffs yet. But in this weather would you? My guess is that we'll see a range of new tariffs and dual fuel deals launched in time for the autumn and they are likely to be backed up by a pretty substantial marketing campaign. Watch this space!
 
---