Bord Gáis Energy bills to go up as CER approves gas price hike
The CER has today announced that they will allow Bord Gáis Energy to increase prices by 2.04%. The price increase, which will take effect from October 1st, will be applied to both standing charges and unit rates. The result is that customers will have to pay an additional €18.43 per year on their gas bills.
Bord Gáis Energy is the only regulated gas supplier and needs to seek approval from the Commission for Energy Regulation before it can increase gas prices. During the summer, Bord Gáis applied to increase prices by 7.22% for domestic households and was widely expected to be granted this increase.
Bord Gáis Energy cited an increase in transportation costs as the main reason it needed to hike prices. The company said that the cost of moving gas through the Irish and UK gas networks had gone up by 38%.
This is the third October in a row that Bord Gáis Energy has increased prices. In October 2011, the company increased gas prices by 22% and in October 2012, gas prices went up by 8.5%. With today's increase, customers have seen the price of heating an average home go from €727 per year to €980; an increase of 35% in just two years.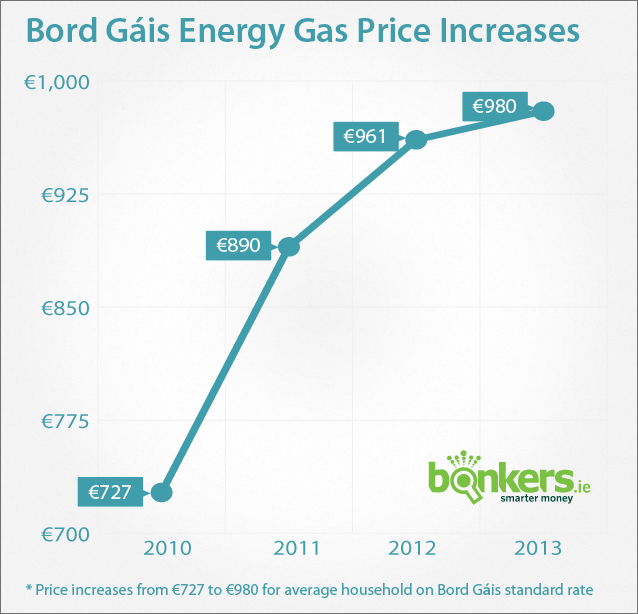 The CER has also approved an increase in the Public Service Obligation Levy which is a charge all domestic electricity customers pay. The levy, which is designed to encourage more domestic electricity production, will go up to €48.66 on October 1st, an increase of €17.06.
Historically, when the regulated gas price goes up, the non-regulated gas companies also increase their standard rates by the same amount, so all gas customers can expect to see a price increase on October 1st.
In addition to higher gas prices, customers can expect to see a small hike in electricity prices. This is because most electricity in Ireland is generated using gas. Electricity customers can expect to see their prices go up by around €17 per year.
In all, customers with both gas and electricity can expect to pay an additional €52.71 per year on their energy bills.
Sadly, part of the reason for the increase in prices is due to an expected decline in consumption. Certain network costs are fixed and these costs need to be covered even when people use less gas. This forces up the price per unit. In a way, customers are being penalised for being frugal and efficient.
Although price increases are never welcome, the regulator has said that they would only allow for "efficiently incurred costs" to be recovered by Bord Gáis Energy in this price hike. This decision has certainly gone towards minimising today's price increase.
Commenting on the news, bonkers.ie Managing Director David Kerr said that "Today's announcement by the Commission for Energy Regulation that Bord Gáis Energy can increase prices by 2.04% comes as another blow to energy customers who are already struggling to pay their bills. However, it is good news that the proposed 7.22% increase was not approved."
Mr Kerr concluded that "Although these price increases will affect all customers, there remains a big difference between Standard energy plans and the cheapest deals available. 60% of gas customers have never switched and are paying the most expensive rates. We'd encourage all customers to seek out the cheapest deals to help offset these latest price hikes."
Energy customers can ensure that they are on the best value plan by visiting:
www.bonkers.ie/compare-gas-electricity-prices/
---