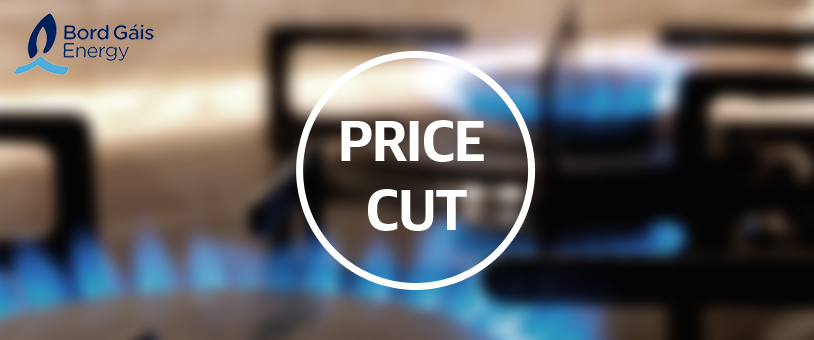 Bord Gáis Energy announces electricity and gas price cuts

Bord Gáis Energy has today announced that it will be cutting standard electricity and gas prices. The price cuts, which will affect all Bord Gáis Energy customers, will come into effect on the 16th March.
Bord Gáis Energy will cut standard gas unit rates by 3.5% which will save an average household €29.47 per year.
Standard electricity unit rates will be cut by 2.5% which will save an average household €24.91 per year.
Overall a household supplied by Bord Gáis Energy for both gas and electricity will save €54.38 per year.
Dave Kirwan, Chief Operating Officer with Bord Gáis Energy said: "With the reduction in international wholesale energy costs, we now have the opportunity to drop our prices in both gas and electricity and we are happy to be able to do so.  We will continue to monitor wholesale and other costs and should further savings occur we will seek to reflect that in our prices. I am also happy to confirm those customers who signed up to our new fixed rate products in gas and electricity will benefit from these reductions also."
Although wholesale gas prices are now more than 20% lower than they were a year ago, Bord Gáis Energy is the first gas supplier to announce a standard gas price cut.
Electric Ireland did introduce an electricity price cut of almost 2.5% in November which has benefitted customers over the winter months. 
Bord Gais Energy is owned by UK energy giant Centrica which also own British Gas. Two days ago on 19th January, British Gas announced that it would cut gas by 5% for all of their customers from 27th February. Three of the "big six" UK energy supplier have now announced gas price cuts.
Bord Gáis Energy has 333,000 Residential Gas customers and 277,000 Residential Electricity customers all of whom should benefit from these price cuts.
Commenting on the Bord Gáis Energy price cut announcement today, bonkers.ie Managing Director said: "The Bord Gáis Energy price cut announcement is good news for energy customers, and it will save money for thousands of households. This is the first time we've seen a supplier announce a gas price cut despite falling wholesale prices, so hopefully we'll see other suppliers follow Bord Gáis's lead."
Mr Kerr continued: "Bord Gáis Energy's sister company British Gas announced a price cut earlier this week, so I'm happy to see that Irish customers are receiving price reductions too."
---