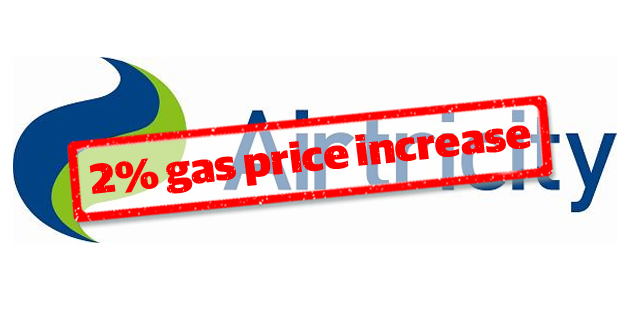 Airtricity Increases Gas Prices
Airtricity has today confirmed it is increasing its gas prices for domestic customers by 2%, effective from October 1st 2013. The announcement sees Airtricity becoming the second energy provider to provide certainty to their customers of the prices they can expect to pay for natural gas for winter 2013/2014.
The move from the energy giant follows this week's announcement by the Commission for Energy Regulation that they are allowing Bord Gáis Energy to increase their regulated prices by 2.04%. It is likely to be the final time Bord Gáis Energy will apply to the regulator for a price change on domestic natural gas prices as it is widely expected the CER will deregulate Bord Gáis Energy's gas prices within the next 6 months. The increase originally sought was 7.22%. 
The move from Airtricity is in line with other suppliers who have made announcements on their gas prices from October 1st.
Stephen Wheeler, Airtricity Managing Director, said:
"We sincerely regret having to increase our prices at this time. Unfortunately increases in costs such as the regulatory-approved increase in networks charges mean that this price change is unavoidable.

"We're acutely aware of the impact that any price increase has on householders in these times. That's why we've done all we can to minimise the impact of this increase and why we remain committed to offering a fair price for the energy we supply to all our customers.

"Not only does Airtricity continue to offer competitive price discounts for new gas customers, we're also the only energy supplier in the market to offer cost-saving discounts to all our customers against our Standard rates if they pay by Direct Debit and receive their bill by eBilling, regardless of contract type.

"Additionally, in line with our commitment to protecting vulnerable customers most affected by the current difficult economic climate, our Pay-As-You-Go tariffs remain our cheapest available standard rates while Airtricity remains the cheapest provider of gas for customers on Pay-As-You-Go meters by as much as €109 each year."
Airtricity has approximately 110,000 natural gas customers. Unlike Bord Gáis Energy, Airtricity offer discount gas tariffs to new, returning and existing customers. For the 89% of the utility's gas customers who avail of a 3% discount for paying by direct debit, the increase represents an average weekly increase of 31 cents per week, or €16.12 per year.
---