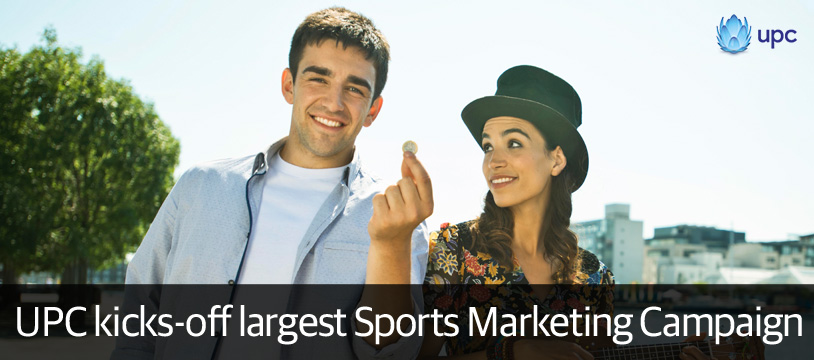 UPC to spend €2 million on autumn sports marketing extravaganza

UPC has just announced that it is launching a mega-marketing campaign to promote its exclusive €1 Sky Sports offer. The campaign which begins today will also promote the company's Horizon TV service and more sport on UPC.
UPC has said it will spend €2 million on this marketing campaign, with almost half of the budget to be spent on broadcast including TV ads featuring Joshua Hayes, Orion Ben and the well-known "Plage" single from Crystal Fighters… which you can see here:
UPC has also focused on radio station sponsorship for the first time and will sponsor Premier League Coverage on Newstalk's Off The Ball… which is of course is pretty relevant to the campaign considering the €1 Sky Sports promotion.
The deal, which offers Sky Sports for just €1 per month for six months, is available to new customers and and existing customers of broadband and phone that sign up for UPC's Horizon TV Service and should help sports fans save more than €200 over the six month promotional period.
UPC has said that the rest of the budget will be spent on outdoor ads, digital media and print advertising – which should make the campaign hard to miss.
Launching the campaign, Meadhbh Quinn, head of brand & marketing communications at UPC Ireland said: "We're passionate about delivering truly great entertainment for our customers.  We're offering more sport, more choice and more reasons to watch top class sporting action from around the world through UPC.  Customers can switch on to our latest Sky Sports offer for just €1 per month which is simply unrivalled in the marketplace."
If you're interested in the UPC €1 Sky Sports Deal you can read more about it at the link below:
https://www.bonkers.ie/blog/upc-launches--1-sky-sports-deal/
---