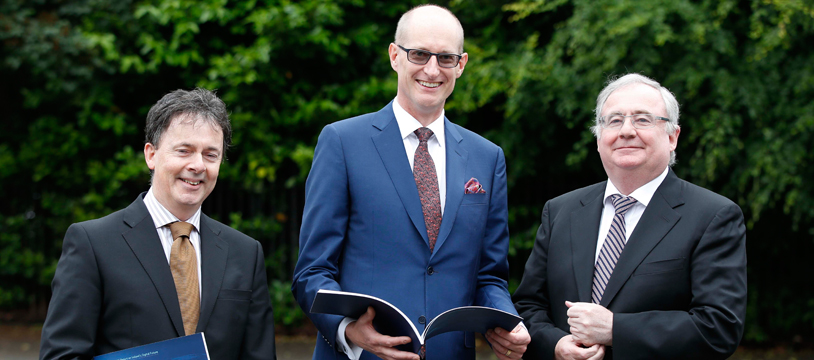 UPC Launches Report on Ireland's Digital Future

UPC has today launched their second Report on Ireland's Digital Future. The research, which was conducted by Amárach and launched by Minister Pat Rabbitte and UPC Chief Executive Magnus Ternsjö, was commissioned to give an understanding of where Ireland stands digitally today, where we may wish to be in the future and how we can get there.
The substantial and far reaching report projects that up to 150,000 new jobs could be created by the digital economy in Ireland by the year 2020 and the overall digital economy could be worth more than €21 Bln if current growth trends continue. Currently the value of Ireland's internet economy is €8.4 Bln or 5% of GDP.
Consumer Surplus
One of the key findings of the report is just how important broadband has become to Irish households. The report attempted to put a monetary value on the additional benefits that we receive from having broadband over and above what we actually pay for it, or what we would really be prepared to pay if it was suddenly taken away.
The report found that this "consumer suplus" is in excess of €1,100 per year and goes up to more than €1,400 for households with speeds of 50Mb+.
"Minister says households not paying enough for broadband" quipped Pat Rabbitte in the hope that the attendant media would not use this as a headline in any upcoming press pieces. He did note particular interest in the consumer suplus as it shows just how ingrained into everyday life the use of broadband and its associated services have become in Ireland.
Importance

So just how important is broadband to us now? Very important it seems... Here are a few key findings:
25% of us shop online 2 to 3 times a month
80% of us have banked online
60% of us have used eGovernment services such as property tax payments and Revenue Online Service, and a huge 40% of us have paid our car tax online
47% of Irish households now think that their broadband is good enough to work from home
We have 4.7 internet enabled devices in our homes and an amazing 2.7 of us are connected to the internet at any one time
Other key findings of the UPC commissioned research revealed that 30% of households have broadband speeds in excess of 30Mb compared to just 10% two years ago. Traffic continues to grow with the increase in rich media available, and we are now consuming almost 50 petabytes per year as a nation (yes, we had to look that one up – a petabyte = 1 million gigabytes!). And overall traffic has grown a staggering 1,000% in just five years.
Shopping
We do certainly like to shop online too. We are now spending nearly €6 bln online per year, and this is predicted to more than double by 2020. Sadly 60% of this spend goes abroad and both Minister Rabbitte and UPC boss Magnus Ternsjö expressed concern at this amount. Both also expressed interest in increasing what Irish retailers ship abroad and the amount that Irish consumers spend online at home.
Online training
Pat Rabbitte also announced that under the government's National Digital Strategy and the BenefIT Programme, 100,000 people have received a basic digital education to enable them to get online. (bonkers.ie is a proud sponsor of Digitise the Nation which has helped thousands of these trainees)
Future
At the launch, UPC Chief Executive Magnus Ternsjö said: "Ireland ranks highly among the world's most digitally advanced economies. The country performs well within the average standards in Europe for internet adoption and well beyond the average standards for higher internet speeds." He continued: "If society and industry can keep pace with the digitisation levels of our world peers then this will benefit national prosperity and public wellbeing.  We need to ensure nobody is left behind and the widespread benefits that digitisation brings can be enjoyed by all."
The 2014 Report on Ireland's Digital Future is available for download from the link below:

http://www.upc.ie/about-us/digital-future/
---