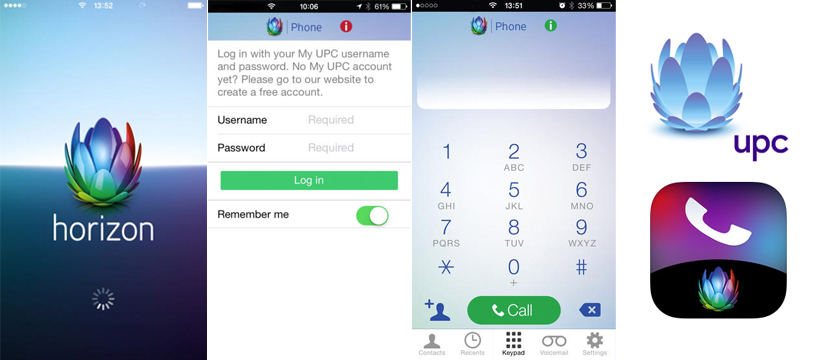 UPC launches Horizon Phone App and Horizon Wi-Free
UPC has today launched two new services for their Horizon customers - Horizon Phone App and Horizon Wi-Free.
The two new services are designed as free add-ons for Horizon customers and UPC says they can help save customers' money on their mobile bills.
Horizon Phone App
The Horizon Phone app works by letting UPC Horizon customers make calls with their smart phone while actually using their UPC Home Phone call pack. The Horizon app works over Wi-Fi so customers can essentially use their UPC call pack from anywhere they can get a Wi-Fi signal. The service should help customers avoid roaming charges, make calls from overseas for free, and avoid off-plan mobile charges.
Horizon Wi-Free
The Horizon Wi-Free service works by creating two completely separate Wi-Fi signals from a customer's UPC modem. The first signal is the usual home service that householders can password protect. The second is one that guests (who are also UPC Horizon customers) can connect to that is entirely separate.
It works like this. UPC customers can register online through My-UPC and set a Wi-Free password. Once a customer connects to a Wi-Free network, it will work automatically at every Wi-Free location after that without the need to log on or ask friends for their passwords.
The Wi-Free service doesn't consume the host's data allowance, and up to five people can connect devices to the service at any time. The host can opt their Horizon box out of the service if they wish. Wi-Free is only available to Horizon customers.
Review
I live in an area where UPC Horizon is not available, so these new services won't work for me. However, I wanted to see what the Phone app is actually like. So I asked the team at bonkers.ie to read the Horizon Phone material, and if they had Horizon, I asked them to download the app and play with it.
The team did as I asked, and the consensus is generally very good. The app is easy to use, works just like a phone, makes and receives calls fine and is clear and quick.
During our highly unscientific trial, a staff member's mother-in-law called what she thought was his home phone and it rang on his mobile. Luckily caller ID came through fine too, so he was able to let the call roll until his wife picked up from their home. No eavesdropping facility seems to be included though so he couldn't listen in.
Good news is that the home-on-your-mobile feature can be easily turned off for when you're out and about and don't want to get those mother-in-law calls.
One observation is that there doesn't seem to be a call plan counter - an area that tells you how many minutes you have left or whether the call you're about to make is actually included in your plan.
The Wi-Free service is only available to Horizon customers, but it's easy to register for. Customers just need to log into the UPC website, choose broadband and add a password. That's it. We couldn't check how the service actually works, so we'll have to hold off on that for now, but the idea of a one-password-fits-all service that works like BitBuzz in our friends' houses is very popular with the troops.
 
---