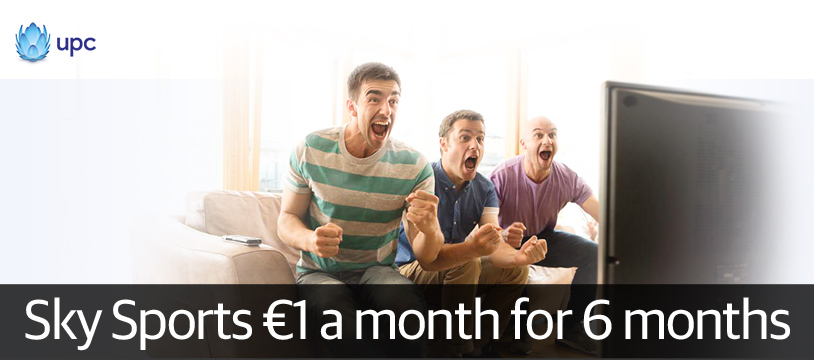 UPC launches €1 Sky Sports deal

UPC has announced today that it will offer Sky Sports to new and upgrading customers for €1 per month for six months.
The €1 Sky Sports deal is available to customers that take UPC's Horizon TV or a Horizon TV, Broadband and Home Phone Bundle.
The €1 Sky Sports package which includes Sky Sports channels 1, 2, 3, 4, and 5 will be an ideal subscription for football fans with the Barclay's Premier League starting in August and 116 matches available.
Sky Sports will also be showing UEFA Champions League and Rugby Union including the Heineken Cup. New for this season will also be GAA All-Ireland Football and Hurling Championships.
And if that isn't enough, UPC is also offering Setanta Sports including BT Sports to new Horizon customers for €10 a month (normally €16). The Setanta Sports Package comes with BT Sport 1 and 2 and ESPN and 70 Premier League games will be available with this package. Also new for next season, BT Sports will be showing the Champion's League.

So who can get this deal?
Any new customers signing up to UPC and taking Horizon TV, or Horizon TV as part of a bundle can take advantage of the €1 Sky Sports offer.
The discounted €1 price is available for six months. After six months, the Sky Sports package costs €37 per month. With the Setanta Sports pack, the cost is €47 per month.
New customers will need to sign up for an 18 month contract.

What about existing UPC customers?
Existing broadband and phone customers that upgrade to a Horizon TV package can sign up to the €1 Sky Sports deal.
Existing Horizon customers that have Sky Sports already can add Setanta and BT Sports Pack at the discounted rate of €5 for six months.
The discounted Sky Sports deal is not available to existing Horizon customers.

What else is included with this deal?
Customers signing up to the Horizon €1 Sky Sports deal can add Sky Sports HD for €5 per month (normally €10) and multi-room viewing for €5 per month (normally €10). Customers that need a new cable point in their homes will need to pay an installation fee of €60. If Sky Sports is canclled at any point during the 18 month contract period, normal price applies to any additional services.

What is Horizon from UPC?
UPC's Horizon is an in home communications system. It's a TV receiver that can record four programs at once while a fifth is watched. It acts as a wireless router for broadband and phone, and it enables live TV to be watched on most household screens including tablets, laptops and smartphones. The standard Horizon box is supplied for free under contract.
---