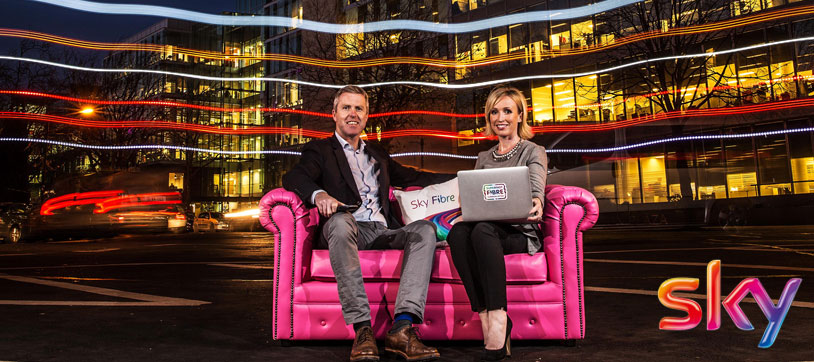 Sky launches fibre broadband

Sky has today announced the launch of Sky Fibre broadband. The new Sky Fibre product will be available to around 1 million households across Ireland from January.
Sky Fibre broadband will offer speeds of up to 100 Mbps with what Sky calls "superunlimited" data – where there will be no usage caps whatsoever.
Pricing for Sky Fibre is competitive with the headline 100 Mbps unlimited plan costing €30 per month for the first six months and €50 per month thereafter. Contracts are for one year.
Sky is also offering a 100 Mbps plan with data limited to 25GB for €40 per month. There are no signup discounts for new customers on this limited plan.
Sky Fibre customers will receive a new router using Wireless N technology which increases signal range and has been designed for multiple high speed connections – ideal for multi-device households.
Sky says that the launch of their new Sky Fibre product recognises the massive shift in home entertainment habits away from traditional TV and into on-demand, catch-up and live-stream – all of which are data intensive and are best experienced with high-speed unlimited broadband connections.
One third of Sky TV customers in Ireland currently connect their Sky service to a broadband connection and are viewing 3 million on-demand downloads per month. These downloads include 90,000 movies, 280,000 catch-ups of content like Coronation Street and Emmerdale, and around 1.2 million box set views a month. Sky expects these numbers to continue increasing.
Until now, Sky broadband offerings were limited to traditional DSL and a top speed of 24 Mbps over the BT network, and they faced stiff competition from the likes of UPC and Eircom with both companies able to offer fibre speeds to their customers. Despite this, Sky has managed to come from a standing start in 2013 to acquiring 6% of the fixed line broadband market in little more than 18 months.
With fibre now available, and prices in line with other high speed broadband providers, Sky is sure to further increase market share. Sky also says that the number of homes where Sky Fibre broadband will be available will increase to 1.6 million by the end of 2016.
Existing Sky customers in fibre enabled areas will be notified by Sky in the coming weeks and can sign up to the new product in advance of the main launch with is to take place after Christmas.
Sky Fibre, which requires an active phone line, will be available with evening and weekend landline calls included. Customers can also take Sky Fibre as part of a Triple Play bundle including TV from €69 per month for the limited product and €79 per month for the unlimited product.
Commenting on the launch of Sky Fibre, Ann-Marie MacKay, Director of Products at Sky Ireland said: "Whether you're watching something on Sky's Catch Up TV service in the living room, while the kids are browsing the internet or streaming music on their tablets or smartphones, Sky Fibre offers enough capacity for the whole household and we won't manage traffic or slow you down. It's the perfect complement to Sky TV which offers thousands of hours of On Demand content including movies and box sets, as well as the Sky Go streaming app and Sky+ app."
---