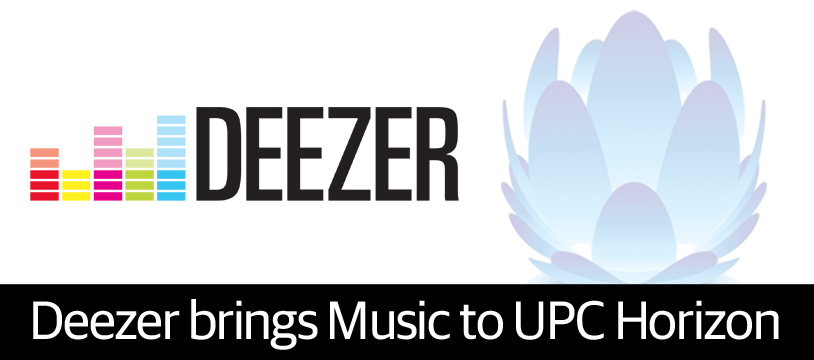 Music to Horizon customers' ears as UPC announces partnership with Deezer

UPC Ireland today announced the addition of music-streaming service Deezer to its Horizon TV service. This means that Horizon customers will be able to access Deezer's catalogue of 35 million songs from the comfort of their living room sofas – a nice option to have as the dark evenings begin to set in.
What's a 'Deezer'?!
Launched back in 2007, Deezer boasts the biggest streaming catalogue in the world, with 35 million tracks (yes, that's more than Spotify offers) and has 16 million monthly active users. It also offers access to 30,000 radio channels and has a pretty nifty social media integration feature, which allows you to share what you're listening to on Twitter.
We also like their music-recommendation feature, Flow, which learns your tastes over time and recommends new music just for you, meaning you could have some trendy new suggestions to show off in time for the Christmas small-talk season!  Oh, and existing Spotify customers need not fret if they fancy switching over – the Spotizr app is specifically designed to help you import your Spotify playlists to Deezer.
Horizon continues to expand
The addition of Deezer to Horizon's already-impressive list of apps, which includes YouTube, Facebook and Twitter, is going to do the TV service no harm as it seeks to grow beyond its 100,000 customers in Ireland. More than 28 million people paid for music subscription services in 2013 – a 40% increase on 2012 – and Horizon is now well-placed to capitalise on further interest in music streaming services among its customers.
Getting access
To access the Deezer through Horizon, customers will have to sign up to the full Deezer service, which is currently available for half-price, at €4.99 per month. There's also a free service but you'll have to put up with some ads.
To switch to UPC and avail of Horizon, visit our comparison page and get up and running today. You can add Deezer once your Horizon service is set up.
---